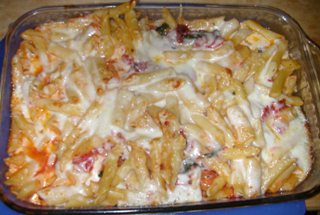 Ingredients:
For the sauce*:
2 tablespoons extra virgin olive oil
1 teaspoon crushed red pepper flakes
1/4 medium onion, chopped
3 cloves garlic, chopped
28 oz canned whole, peeled tomatoes (I used fire roasted, but any is okay)
1 shallot, chopped
1 handful of fresh basil
Sprig of fresh basil
salt
black pepper
For the ziti:
1 lb pasta (ziti or other small tubular pasta)
3/4 cup freshly grated Parmesan, divided
1 pound fresh mozzarella, ½ lb cubed, ½ lb sliced
Directions:

For the sauce:
In a medium saucepan, heat oil. Add garlic, onion and shallot and sauté for about 3 minutes or until just beginning to brown. Add the tomatoes and crushed red pepper flakes and bring to a low boil. Lower heat and simmer for about 10 minutes. Remove from heat and add basil. Stir to combine and add salt and pepper to taste.
For the ziti:
In a large bowl, toss the cooked pasta with the sauce, 1/4 cup of the Parmesan and the cubed mozzarella pieces. Add salt and pepper if needed. Pour into a greased 9- x 13-inch baking dish. Sprinkle with the remaining cheeses. Bake at 350 until just browned and bubbly hot, about 30 minutes.
*This sauce good even with out making baked ziti. Just toss with fresh pasta. Or make and freeze it up to 3 months.