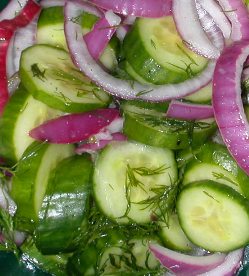 Ingredients:
1 ½ large English cucumbers, sliced
1 teaspoon PLUS one tablespoon salt
2 tablespoon cider vinegar
1 tablespoon sugar
1 medium red onion, sliced
2-3 tablespoon fresh dill, chopped
1 tablespoon olive oil
Directions:

In a medium bowl, toss cucumber with 1 teaspoon salt. Refrigerate 30 minutes. Meanwhile, in another medium bowl, whisk together 1 cup water with the vinegar, sugar and remaining salt. Add onions and refrigerate 30 minutes. Drain cucumbers (rinse if needed) and transfer to a salad bowl. Lift the onions out of the marinade and toss with cucumbers. Add ½ of remaining marinade, dill, oil and pepper and toss again.