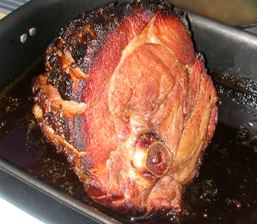 Ingredients:
1 (8-pound) fresh ham
2 teaspoons salt
1/2 teaspoon ground black pepper
1/2 teaspoon cayenne
Whole cloves
1 cup packed dark brown sugar
4 cinnamon sticks
1/2 cup whisky – we used Knob Creek bourbon
4 cups coca-cola drink
1 teaspoon allspice berries
1 teaspoon black cardamom seeds
Extra bourbon and coke for drinking while it bakes
Directions:
Preheat the oven to 325 degrees F. With a sharp knife score the skin of the ham to form a grid pattern, making 1/2-inch-deep incisions. In a small bowl combine the salt, pepper, and cayenne. Massage into the ham. Place the ham, fatty side up, in a large roasting pan. Do not use the rack that comes with the pan; place the ham directly in the pan. Place cloves where the lines intersect on the ham. Rub the sugar evenly over the ham. Pour 2 cups of coca-cola and place cinnamon sticks, allspice and cardamom into the bottom of the pan and bake for 1 hour. In a large measuring cup, combine the whisky and the rest of the coca-cola. Baste the ham with the whiskey and cola and continue to bake. Baste every 15 minutes until the ham is cooked through. When you run out of the coca-cola/whiskey mixture, use the juices from the pan to baste. The skin will be dark and crispy. Use a meat thermometer to check that it is at least 165 degrees F in the center. Baking time will be around 2 to 2 1/2 hours.

Spring this recipe!