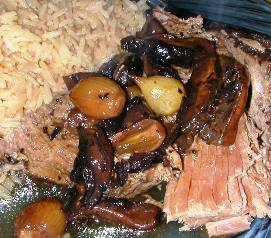 Ingredients:
2 pounds beef bottom round, cubed
2 tablespoons flour
1/4 teaspoon allspice
1 cup burgundy wine
1 tablespoon Worcestershire sauce
1 tablespoon good quality Dijon mustard
8 ounces sliced Portobello mushrooms
5 ounces white pearl onions
2 cloves garlic, chopped
2 tablespoons quick-cooking tapioca (to thicken)
olive oil
salt
black pepper
Directions:
In a large bowl, mix together wine, Worcestershire sauce, Dijon mustard, and garlic. Add sliced mushrooms and pearl onions and let marinate while browning meat. In a medium bowl, mix together the flour, salt, pepper and allspice. Roll cubed beef in flour mixture. In a large pan heat olive oil, brown meat on all sides. Transfer to slow cooker, sprinkle with tapioca. Pour wine/mushroom mixture over meat. Cook on low for about 8 hours.