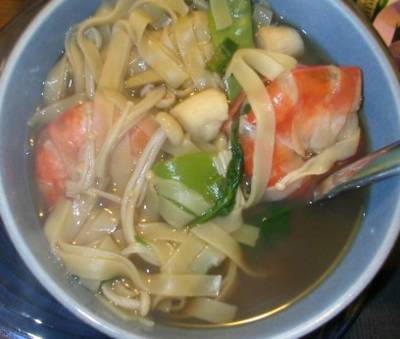 Ingredients:

8 oz. Enoki mushrooms

2 32 oz containers of Soy Ginger Noodle broth (I used Imagine brand)

6-8 jumbo shrimp (I used uncooked frozen, shorten cooking times if using fresh)

15 or so bay scallops (I used frozen)

2 cloves garlic, chopped

about an inch fresh garlic, sliced thinly

7 oz Indonesian wheat noodles (wide cut)

1 bunch green onions, chopped

1 cup fresh spinach
Directions:

Bring broth to a boil in a largish pot. Add garlic, ginger and white part of the onions. Return to boil if necessary. Add frozen seafood. Cook until about half done (4 or so minutes) and add noodles. Cook about 3 more minutes and add the rest of the onions and the spinach. Cook about 1 more minute then add mushrooms and serve.